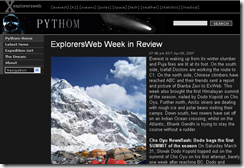 Image of tents on Everest's south side BC last Wednesday live over Contact 4.0 courtesy of Mike Haugen's Coleman Everest (click to enlarge).

Related Links

Previous ExplorersWeb Week in Review

07:49 pm EDT Apr 08, 2007
Everest is waking up from its winter slumber and Puja fires are lit at its foot. On the south side, Icefall Doctors are working the route to C1. On the north side, Chinese climbers have reached ABC and their friends sent a report and picture of Bianba Zaxi to ExWeb. This week also brought the first Himalayan summit of the season, nailed by Dodo Kopold on Cho Oyu. Further north, Arctic skiers are dealing with rough ice and polar bears visiting their camps. Down south, two rowers have set off on an Indian Ocean crossing, whilst on the Atlantic, Bhavik Gandhi is trying to stay the course without a rudder.