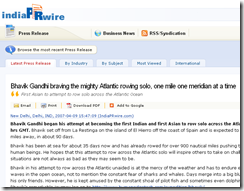 Bhavik Gandhi braving the mighty Atlantic rowing solo, one mile one meridian at a time

First Asian to attempt to row solo across the Atlantic Ocean

New Delhi, Delhi, IND, 2007-04-09 15:47:09 (IndiaPRwire.com)

Downloads

Bhavik Gandhi began his attempt at becoming the first Indian and first Asian to row solo across the Atlantic Ocean on 28th February, 2007 at 1155 hrs GMT. Bhavik set off from La Restinga on the island of El Hierro off the coast of Spain and is expected to reach his destination Antigua, 3000 nautical miles away, in about 90 days.

Bhavik has been at sea for about 35 days now and has already rowed for over 900 nautical miles pushing the boundaries of equipment, body and mind beyond limits unfathomable to most human beings. He hopes that this attempt to row across the Atlantic solo will inspire others to take on challenges and obstacles in their life that were thought impossible and help realise situations are not always as bad as they may seem to be.

Bhavik in his attempt to row across the Atlantic unaided is at the mercy of the weather and has to endure extreme conditions such as gale force winds, storms and regular 4-storey high waves in the open ocean, not to mention the constant fear of sharks and whales. Days merge into a big blue background and darkness interspersed with brilliant stars on clear nights are his only friends. However, he is kept amused by the constant shoal of pilot fish and sometimes even dolphins that follow his boat as it continues its journey to Antigua. For more updates on Bhavik's remarkable journey log on to http://www.humanedgetech.com/expedition/bhavik/

Bhavik is rowing for about 10-12 hours a day in 4 hour shifts. The rest of the time will be divided between eating, cleaning and maintaining the boat, and trying to catch up on some much needed sleep. To keep his sanity intact he will be carrying a laptop, a PDA, an iPod and a satellite phone which will be his only contact with the outside world. He will also be carrying a GPS system, an Argos tracking system and a SeeMe device that will enable his boat to be picked up by the radars of large ships.

Upon completion of this journey he will be the 23rd person to row solo across the Atlantic and only the 33rd person to ever row solo across any ocean. The Ocean Rowing Society would certify the World Records. Following the route Christopher Columbus took, Bhavik will spend an estimated 90 days at sea in a 23 - ft boat, rowing solo and unassisted. Bhavik on route to his world record will be crossing the infamous Bermuda Triangle.

Overcoming challenges and obstacles at sea are of a different kind and a lot more difficult. Bhavik commented, "Rowing solo across miles and miles of ocean pits man against nature and all that she has to offer. Somedays she just beautiful and calm while other days she comes with problems such as rough weather, strong currents which push a person to and beyond boundaries they never knew existed. That is the biggest battle of them all. I have to get miles out of nature by pushing the boundaries of the equipment, body and mind. I have been preparing my self for this my whole life with the intense physical and mental and emotional training I have put myself through."

- End -

About Ocean Rowing

Ocean rowing remains the world's toughest human powered endurance sport. Relying on muscle-power alone athletes row in extreme weather conditions across the open ocean facing 40 - ft. waves. This sport is unique in terms of its difficulty, exceptional length and demands on physical and mental endurance. Extensive planning, preparation, motivation and persistence are a pre-requisite.

The sport is as much a psychological as it is a physical challenge. Rowers often have to endure long periods at sea with help often many days if not weeks away. The challenge is especially acute for solo rowers who are held in especially high esteem within the sport. The history of ocean rowing is sometimes divided into two eras. The first 12 ocean rows are considered "Historic Ocean rows" within the sport as they were completed with very limited if any modern technology

About Bhavik Gandhi

Bhavik Gandhi is the founder and the principal partner at the Development Venture Capital Group, a venture capital fund specialising in micro venture capital for social entrepreneurs in developing countries. His present work also involves investments in high growth startups specialising in Next Generation Network technologies, for converged voice, video and data services for fixed and wireless telecommunication carriers. Bhavik's experience spans Telecommunications, Retail, New Media, Venture Capital, Energy, Outsourcing and the non-profit sector. He has also had extensive experience in the establishment, growth and management of startup companies.

He is currently based in Stockholm, Sweden. Bhavik holds an MSc in Engineering Information Systems from the Royal Institute of Technology, Sweden and a B.Sc in Management & Information Systems from Royal Holloway, University of London. He was born in Bombay in 1977 and studied at Bombay Scottish, Mumbai till Std. VIII before moving to Sri Lanka and the United Kingdom for further studies.
Bhavik Gandhi braving the mighty Atlantic rowing solo, one mile one meridian at a time.