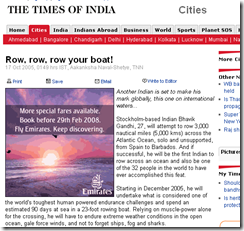 Another Indian is set to make his mark globally, this one on international waters...
Stockholm-based Indian Bhavik Gandhi, 27, will attempt to row 3,000 nautical miles (5,000 kms) across the Atlantic Ocean, solo and unsupported, from Spain to Barbados. And if successful, he will be the first Indian to row across an ocean and also be one of the 32 people in the world to have ever accomplished this feat.
Starting in December 2005, he will undertake what is considered one of the world's toughest human powered endurance challenges and spend an estimated 90 days at sea in a 23-foot rowing boat. Relying on muscle-power alone for the crossing, he will have to endure extreme weather conditions in the open ocean, gale force winds, and not to forget ships, fog and sharks.
But Bhavik is undaunted by these prospects. An avid adventurer at heart, it's this 'endurance challenge' that first attracted him to take up such extreme sports. Having trekked the Himalayas, cycled 3,000 kms across Europe in a record 6 weeks, trekked across central Siberia, from Stockholm to Istanbul, he now wants to 'test the waters'.
"These not only put to test your physical stamina, but also your mental strength and spirit," says Bhavik. "And that's exciting," he adds.
Row, row, row your boat!-Calcutta Times-Cities-The Times of India