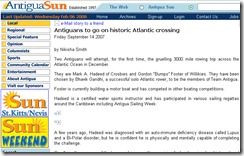 Antiguans to go on historic Atlantic crossing

Friday September 14 2007

by Nikisha Smith

Two Antiguans will attempt, for the first time, the gruelling 3000 mile rowing trip across the Atlantic Ocean in December.

They are Mark A. Hadeed of Crosbies and Gordon "Bumps" Foster of Willikies. They have been chosen by Bhavik Gandhi, a successful solo Atlantic rower, to be the members of Team Antigua.

Foster is currently building a motor boat and has competed in other boating competitions.

Hadeed is a certified water sports instructor and has participated in various sailing regattas around the Caribbean including Antigua Sailing Week.

A few years ago, Hadeed was diagnosed with an auto-immune deficiency disease called Lupus and a Bi-Polar disorder, but he is confident he is physically and mentally capable of completing the challenge.

Gandhi is the manager of the team and is currently organising for local, regional and international advertising for the event. He said that the companies will be announced in the coming weeks.

Team Antigua is attempting a world record as the first Antiguans to participate and finish the Atlantic Rowing Race. They, however, will not be the first West Indians as a team from Barbados already holds that title.

They hope to complete the trip in about 50 days, but are aiming to break the record of the Bajans, which is 43 days.

From 15 Dec., about 40 teams from around the world will compete in a race across the Atlantic on equal terms in three race classes - Solo's, Pairs and Fours. The race was first held in 1997, and roughly every two years since.

Gandhi completed his 106 day solo journey across the Atlantic from the Canary Islands on 14 June. It was his fourth attempt, and he succeeded, unsupported in his 23 foot rowing boat called Miss Olive.

After landing in Antigua, and enjoying the island's hospitality, Gandhi said that he has grown to love the place and is willing to donate his time to helping some locals achieve the same goal.

"Personally it is my way of giving back to Antigua for the wonderful hospitality. I'm willing to donate my time to the project because I think that it would be great for Antigua to be a part of the race. It's a once in a life time achievement."

Team Antigua will be using, Miss Olive, the same boat that Ghandi used on his journeys.

The rowers will take along with them water, dried and canned foods, coffee, a GPS system to keep on track during the journey, a radio, and phone. Miss Olive is fibre glass boat and is equipped with a water storage tank of 200 litres, two water purifiers and a stove.