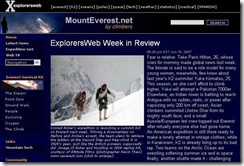 06:26 pm EST Jun 10, 2007
Fear is relative. Take Paris Hilton, 26, whose cries for mommy made global news last week. The blonde is said to be a role model for many young women, meanwhile, few know about last year's K2 summiter Yuka Komatsu, 25. This season, as she can't afford to climb higher, Yuka will attempt a Pakistan 7000er. Elsewhere, an Indian rower is battling to reach Antigua with no rudder, radio, or power after capsizing only 200 km off coast; Asian climbers summited Lhotse Shar from its mighty south face; and a small Aussie/European led crew topped out Everest after virtually everyone else had gone home.

Bhavik Gandhi capsized: "DON'T WANT RESCUE (7:32am)" Bhavik Gandhi is definitely facing major troubles after capsizing on Tuesday night. With a broken oar, no electricity, no radio, no rudder, and 200 km to go – an SOS call seemed inminent. But in these days of guiding, external support and tricks, the Indian rower is commited to self-sufficiency. "Don't want rescue. Will try to manage," read his SMS last week.